Japan Linux Symposium, co-located with Linux Kernel Summit, the newest Linux Foundation event in Asia Pacific and one of the most important events of the world FLOSS community, brings together Linux/FLOSS developers, administrators, experts as well as Linux/FLOSS users and managers all over the world. The event is held to encourage collaboration among Linux/FLOSS community and support future interaction between Japan, Asian countries and the rest of the Linux/FLOSS world.
My first impression when landing off was the country. Japan has the world's tenth-largest population, with about 128 million people, but Japan has the world's second-largest economy by nominal GDP, also the only Asian country in the G8 (source: Wikipedia – http://en.wikipedia.org/wiki/Japan).
The event was taken off in three days, October 21th to 23th, 2009. It brought together over 450 participations world wide, especially Linux Kernel developers who had been here before to participate Linux Kernel Summit.
The most important day was the afternoon, October 21th, when keynote sessions were taken at ANA Intercontinental Hotel, with participation of one of the most VIP in the Linux/FLOSS community, the man who had wrote the first lines of code and currently known as chief architect of Linux Kernel, Linus Torvalds. That day marked a record with about 1,000 participants.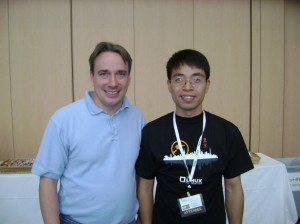 The Linus Torvalds interview taken by Jim Zemlin, Linux Foundation, came so open with a lot of interesting things. Linus Torvalds shared his first hard days until the first result, Linux Kernel 1.0 was released; then the time when the project got more and more so important contributions from few to thousands Linux Kernel developers, who themselves have created one of the biggest FLOSS communities in the world up to now. He also shared a lot about the future of Linux, FLOSS and the community.
Learning from the way Linus Torvalds and Linux Kernel developers and the community contribute to Linux and FLOSS, I felt what myself, iWay, HanoiLUG and Vietnamese FLOSS community did are quite small and we have got a lot of things to work to take themselves into FLOSS, the inevitable trend in the world. With this such world FLOSS community, it's not difficult to understand why Linux and FLOSS have been so successful recently.
The afternoon keynote sessions were end with a round table with other VIP from FLOSS enterprises and organizations: Larry Augustin from SugarCRM; James Bottomley from Novell/SuSE; Dan Frye from IBM; Hiroyuki Kamezawa from Fujitsu; and Shinichi Yamada from NTT DATA; moderated by Nobuyori Takahashi from Nikkei BP.
The moderator asked questions about generic topics such as: why FLOSS users/organizations should work with Linux Kernel contributors, what the benefits they can get; how to remove users' hesitations to encourage them to use Linux and FLOSS; what we can do to get Linux ready in the future of computing, etc. Invited speakers turned around to discuss about each topic, answered together all questions, brought to the conference room an exciting air with a lot of useful information for all levels of audience from experts, Linux Kernel developers to end-users to have an overview about Linux and FLOSS today as well as in the future.
The second day was impressed by afternoon sessions too. The day began with The Kernel Report by Jon Corbet from LWN.net, about generic topics such as the vitality of the Linux community; or more detailed topics such as scalability, storage, realtime computing, virtualization, hardware, etc. which are supported or should be supported by Linux Kernel itself. And it ended with the  Kernel Developer Panel in similar type as the yesterday round table with participation of well-known Linux Kernel developers: Jon Corbet from LWN.net; Andrew Morton from Google; Takashi Iwai from Novell/SuSE; Tejun Heo from Novell/SuSE; moderated by Ted Ts'o from Linux Foundation.
The presentations presented by famous speakers in three JLS days were so various, from overview to details, from Linux Kernel to various FLOSS, from development, technological issues to hot topics about community, developing community, from the trends of developing information systems for all level managers to FLOSS usages for end-users and they brought a huge interesting information. Each presentation was limited in 45 minutes, including Q&A time, taken at five separated rooms.
Conclusion:
The event impressed me so much. I have been even obsessed by questions:
Why haven't the FLOSS community in Vietnam, especially developers who have ability to contribute to Linux Kernel, developed yet appropriate to our real abilities?!?
What should we do to contribute more to FLOSS, together with the world FLOSS community to reach to the complete meanings of freedom in software?!?
Truong Anh Tuan, writing from Japan Linux Symposium
Tokyo, October 24th, 2009